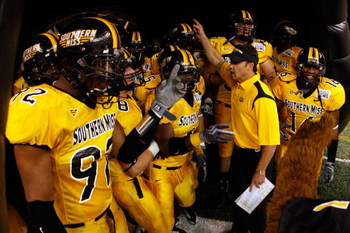 New Orleans Bowl

Southern Mississippi Eagles vs Middle Tennessee Blue Raiders

Sportsbook Odds: Southern Miss -4

The Southern Mississippi Eagles and Middle Tennessee Blue Raiders will have their first ever meeting on the gridiron in the New Orleans Bowl this weekend.

It has been a banner year for Middle Tennessee, which won nine games. They joined the FBS in 1999 and this has clearly been their best year by far. This is their second bowl appearance overall.

The Blue Raiders are led by quarterback Dwight Dasher, who threw for 2627 yards and 21 touchdowns this year. He's a dual threat and a serious one at that. He added another 11 touchdowns and 953 yards on the ground.

For Southern Miss, a lot of college football betting experts thought their season would go down the tubes when they lost quarterback Austin Davis for the year. Martevious Young stepped in after Davis was lost midway through the year and the offense didn't really skip much of a beat. For a third straight year, the Eagles churned out over 5000 yards of offense, which is fairly impressive given the circumstances.

Young was very efficient with the football as he threw for 13 touchdowns and just one interception. His one interception came in the game against Memphis on October 17th and he hasn't been picked off since.

The New Orleans Bowl will be the swan song for veteran running Damion Fletcher, who has had an illustrious career for the Eagles. He will need just 63 yards in the New Orleans Bowl to become just the ninth player in FBS history with four 1000-yard seasons.

While both teams are solid overall, there is slight difference between the two that may not be noticeable to the naked eye. The Blue Raiders may have nine wins but they have had a much easier schedule than Southern Miss. The Blue Raiders play in the feeble Sun Belt whereas Southern Miss is part of Conference USA.

That should be the main difference as Southern Miss may be the toughest opponent the Blue Raiders have faced since playing Mississippi State earlier in the year.

Another side note for this game is that the Eagles are coached by Larry Fedora, who sports wagering fans might remember coordinated the Middle Tennessee offense. He should have some insight into how to slow it down.

Sportsbook Ratings Picks: Southern Mississippi -4